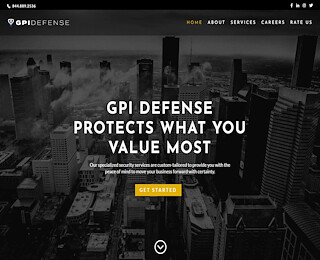 Do you need a Houston security guard? If so, you are in the right place now! GPI Defense is a veteran-owned security firm that provides personalized security services at reasonable prices. We offer a variety of solutions to satisfy every security need. You can count on GPI Defense when a security guard in Houston.
Whether you need a full-time security guard, a part-time security guard, a one-time security guard, or a seasonal security guard, GPI Defense has your back. When you hire a security guard through us, if you are going to be using their services on an ongoing basis, we will make sure that you get a security guard who you like. This way, you can develop a rapport with your security guard and have the same agent every time.
We Provide Personalized Security Services
Security is something that has to be customized to the needs of the client. Sadly, many Houston security firms use a one-size-fits-all approach to the security services that they provide. Not so with GPI Defense!
Hire a Posted Security Guard in Houston
When it comes to security guards, there are a lot of different client needs and security guard responsibilities. Perhaps you need a posted security guard to keep an eye on your construction site, retail enterprise, apartment complex, or other location. When our security guards work with you, they work for you. They will coordinate with you or with your current in-house security team. We give our security guards a lot of leeway to work for our clients who our clients need them, as long as it is within the parameters of the law and safe for our agents.
Hire Houston Law Enforcement Security Guards
Other times, situations may call for police security. Since the owner of GPI Defense is ex-army, ex-law enforcement, it comes as no surprise that we offer law enforcement security guards for volatile scenarios, such as protests, and we also offer police security guards for conferences and live events. It is important to note that our police security guards will be uniformed when they are on the clock, but they are not on active police duty. When they are working for you, they are off duty, so you wouldn't have to worry about them being called off.
Further, our police security guards can make their presence known by patrolling and actively looking for dangers, or they can stand posted. You may hire one law enforcement security guard, or you may hire several - however many you need! They, too, will coordinate with you and each other to provide the best kind of security you could ever have.
Hire Security Patrol Guards in Houston
In addition to posted security guards and law enforcement security, GPI Defense also provides mobile patrol security services. We patrol retail stores, HOA's, corporate campuses, universities, and more. The presence of a patrolling security agent can deter a lot of crime from taking place. Our security guards are very alert, proactive, and ready to react if a situation calls for it.
When you hire GPI Defense security guards, our job is to make sure that you and your assets are protected.
Houston Security Guard
We welcome your comments!
The Seven Costly Mistakes to Avoid When Hiring a Security Company