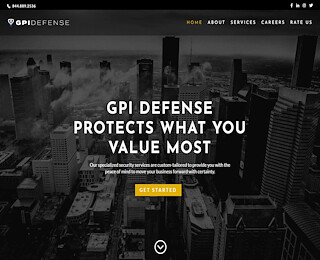 Across the nation, people are turning to private security firms to keep them safer and more secure. This is true of residences, establishments, and even whole communities. Here in Pasadena, TX, the presence of security guards is on the rise. Some of them you see, and some of them you can't see. Still, security guards in Pasadena, TX are keeping people and properties safe from crime and violence, and GPI Defense is at the helm of this shift in the paradigm of personal security.
If you are in Pasadena, TX, and you need security guard services, don't hesitate to contact us. We'll discuss your security needs with you and make a proposal that can't be beaten.
Security Officers Add a Needed Layer of Protection
Private security personnel can keep guard when law enforcement officers can't. More and more people are on board with the idea of added security as crime is on the rise and security threats are rapidly changing, This is in addition to the exhaustion of law enforcement personnel and resources within Texas communities.
GPI Defense security guards patrol streets and properties in marked vehicles and are often armed at the request of our clients. Our trained security guards are security officers who have been trained to deter violence, theft, burglary, robberies, and the like. We've seen it all and dealt with it all at GPI Defense!
Why Hire Security Guards from GPI Defense?

GPI Defense security guards work hand-in-hand with the police offices and sheriff's departments in the communities that we serve. Our security guards are good eyes and ears as well as a powerful proactive force for good. Our team is comprised of ex-law enforcement and military, as is the ownership of GPI Defense. People trust us for their safety and security needs because we have the relevant background and training to handle the tasks that they need to be managed.
When bad guys see our cars and our security personnel, they know that we are a force to be reckoned with. Each one of our officers goes through extensive training, so you can rest assured... You may employ our security guards in Pasadena, TX on an hourly basis or by groups or businesses to provide as much security as needed when it is needed.
What to Expect When You Hire Our Security Guards
With crime on the rise throughout Texas and around the country, added security provides law-abiding people with peace of mind while putting the criminals and trouble-makers on edge. This is especially important since there is a shortage of police officers these days.
A lot of times, police officers simply can't arrive on time. Crimes and acts of violence are often random, and they end as fast as they start. If people had private security guards nearby, victims of crime might have been better off. GPI Defense cannot make an arrest in Pasadena, but we can detain someone if we see them commit a crime.
Security Guards Pasadena Tx
We welcome your comments!
The Seven Costly Mistakes to Avoid When Hiring a Security Company